Electronic repeat dispensing in Halton and St Helens
Background
MLCSU Medicines Management and Optimisation services were approached to support with the implementation of NHS England's Electronic Repeat Dispensing service across Halton CCG and St Helens CCG. The aim was to increase the uptake and understanding of Electronic Prescription Services (EPS) and Electronic Repeat Dispensing (eRD) to assist with the implementation of NHS England's project in this specific area.
Action
With the medicines management team (MMT) from each of the two clinical commissioning groups and with support from St Helens and Halton and Knowlsey Local Prescribing Committee, we developed a pilot project with an experienced MLCSU senior pharmacy technician over six months.
A standardised implementation process was devised for four GP practices within each locality, supporting the non-contractual targets for EPS/eRD in the 2017/18 General Medical Services digital guidance. We produced guidance to promote best practice for managing repeat medication.
A collaborative approach was encouraged between GP practices and community pharmacies to enhance working relationships to benefit patient care.
Our pharmacy technician reviewed existing repeat prescribing ordering processes with GP practice staff, members of the locality MMT and community pharmacies. More than 30 staff in both CCG locality MMTs were trained to initiate and implement the use of EPS and eRD. An evening engagement event also supported wider promotion of the project.
Impact
The April 2017 EPS utilisation figure reported on average 57 per cent of EPS items were claimed for each Halton CCG practice and 67 per cent for each St Helens CCG practice. The latest statistics received from NHS Business Services Authority estimate for June 2017 EPS utilisation was 67 per cent for Halton CCG practices (7 per cent increase) and 77 per cent for St Helens CCG practices (10 per cent increase).
Since the completion of the project, GP practices are proactively engaging with the eRD workstreams and offering the service to suitable patients as identified by the pilot. The CCG MMTs have received relevant training to enable them to facilitate further eRD implementations in other GP practice sites, and to support pilot sites in future expansion of the scheme.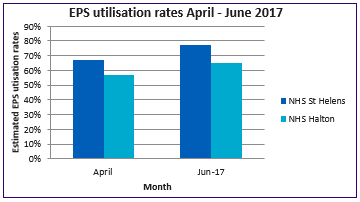 "The quality of the training and information received…has enabled us to now look at rolling this project out to additional practices. Without this support and resource from the CSU the project would have taken much longer to initiate."
Nicola Cartwright, Head of Medicines Management, St Helens Clinical Commissioning Group
The image gallery set on this page isn't set to look at any folders, please use the CMS to add a folder to this image gallery