Improving high-dose opioid prescribing
Background
There is no evidence for efficacy of high dose opioids (>120mg/day morphine equivalent) in long-term pain. The Faculty of Pain Medicine has advised that increasing opioid load above this dose is unlikely to yield further benefits but exposes the patient to increased harm Opioids Aware | Faculty of Pain Medicine (fpm.ac.uk).
Since 2017, the MLCSU Medicines Management and Optimisation Team (MMOT) have prioritised the issue of high-dose opioid prescribing in non-cancer patients, working with GP practices in Greater Preston and Chorley & South Ribble CCGs, the Moving Well Service and Lancashire Teaching Hospitals' pain team to bring prescribing into line with evidence-based recommendations.
Action
Baseline audit in 2017, training, resources and individual medication reviews with re-audit in 2018, further training and discussion about challenges faced
Provision of step-down plans, patient letters and agreements, patient information leaflets, pain diaries
Meeting / Q&A session between local specialists and primary care network pharmacists
Webinar for completion by all prescribers of controlled drugs – currently completed by 68% of clinicians.

Impact
Overall reduction in number of patients taking >120mg Morphine Equivalent Daily Dose (MED) across 46 practices in Greater Preston and Chorley and South Ribble CCGs from August 2017 (MMOT work commences) to September 2021 is 232 (reduction from 527 to 295 patients)
= 44% reduction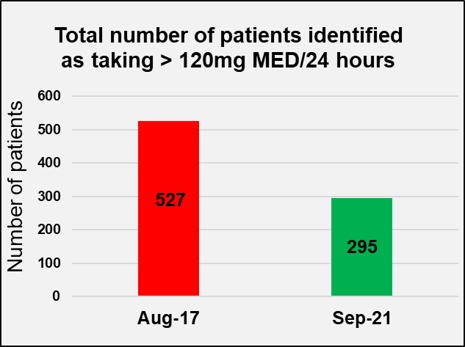 The MOT have done a fantastic job in achieving a significant reduction in opioid prescriptions which is a national issue. The number of hours dedicated to delivering training for the practices and having the team working within practices reviewing these patients and supporting the clinicians is highly commendable."
GP Director, Chorley and South Ribble CCG
"Considering the initial figures were already favourable compared to regional benchmarks, further reductions are all the more reason to be congratulated."
GP Director, Greater Preston CCG